Alberta Whittle, RESET (2020), video, 32 minutes
Alberta Whittle is the recipient of this year's Frieze Artist Award. Whittle, who was born in 1980, is a Barbadian-Scottish artist, researcher and curator, whose PhD and art practice addresses colonial entanglements. RESET (2020), is a 32-minute moving image work, filmed across Barbados, South Africa, and the United Kingdom, that poetically and boldly weaves together newly directed and found footage with contributions from her community of writers, performers, and musicians.
Whittle developed RESET this year, not long after the murder of George Floyd by US police officers, and about five months after the Covid-19 pandemic became impossible to ignore. During the beginning weeks of the pandemic, as the world witnessed disproportionate numbers of Black deaths, Whittle explains in an interview that, "..the first ten doctors to die from Covid-19 in the UK were people of colour. During the next couple of months, we witnessed rebellion on a global stage."
RESET addresses this unsettling climate of anti-blackness, moral panic and a lack of historical accountability with a series of three lessons; 'Reparable Impulses Under Conditions of Anticipatory Grief', 'Everyday Ululations', and 'August 1st, 2020 Emancipation Day'. Combining poetry, chanting, meditation and footage of BLM protests, each lesson offers an alternative pedagogy that cultivates reflection, mutual care and hope in hostile environments.
The second lesson, 'Everyday Ululations', was a breathtaking response to the colonial condition we live in. The scene opens with Mele Broomes; a choreographer, activist, dancer and friend of Whittle, situated in an empty room of a domestic British terrace building. She is bare on top, apart from a woven bodice made from chalky weathered rope that outlines the contours of her breasts and torso. As if washed up from a shipwreck, the long matted cord is adorned with barnacles.
To accompany Broomes is a score composed by DJ, artist and friend, Yves B. Golden, entitled 'Maroon Rage'. 'Ululations' derives from the Latin 'ululo' – a long, wavering, high-pitched vocal sound resembling a howl, which suits the composition's destabilising quality. Two breathy, atonal notes bellow from what sounds like a pipe organ, sweeping up and down into an ever-flowing dissonance that deviates from comfort to discomfort.

Whittle moves through a short succession of clips; Broomes' feet as she slowly rises onto her toes, her face as she holds a solemn focus to the ceiling, and her hand on her belly, following her breath. Then, framed in the window, Broomes stands poised and silhouetted, as a choreographic language takes shape. Flat-footed, bent knees, raised arms and poised hands. The form is angular yet coupled with an uncertain quality as each opening retracts and then recoils. Elevated by a droney base, the titanic and sobering composition sends a hypnotic message, that our attention and accountability is required now.

'Everyday Ululations' speaks of a painful voyage: from ancestral regality, through transatlantic slavery, displacement, diaspora and assimilation. To reset, by Whittle's definition, is not only to wipe the slate clean but also to create a new decolonial language, one where holding space for deep reflection and mutual care becomes a radical form of resistance and emancipation.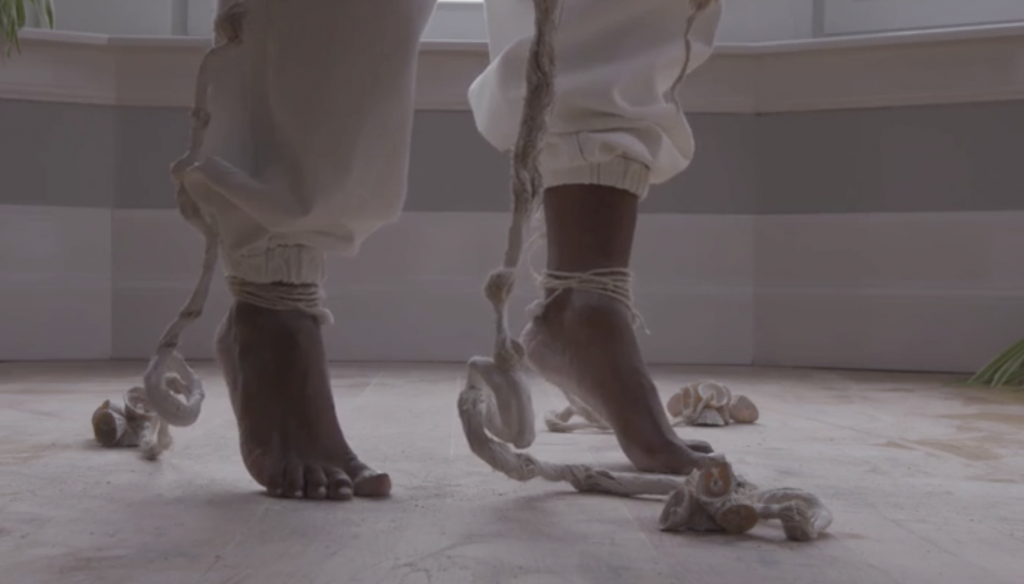 Alberta Whittle, RESET, 2020 (Screenshot, 9:09)
https://www.frieze.com/artistaward