Indulge in my vanity
A space where my body exists to be free
A whare you may or may not understand
You belong here, with me
Don't mourn for our loss
Kare they are with us
Takatāpui they are with you

– Nathaniel Gordon-Stables
In the curatorial intervention of the group show The Gaze is Not Something You Have or Use (It is a relationship entered into) Laura Duffy has created space for an artist she feels deserves recognition, Nathaniel Gordon Stables. Nathaniel is a Wellington based artist currently in his 3rd year of his BFA, and uses his personal experience as lens to critically examine dominant cultural narratives.
Nathaniel isn't wāhine, he is tangata ira tane as well as takatāpui. The idea of the curatorial intervention was to disrupt the notion of 'women', not only in the pre-existing exhibition, but to reconstruct the constraints that 'women' has as a category in order to be more inclusive and diverse.
Cyber Nectar surrounds ideas of decolonisation: takatāpui in itself has an unfortunate history of being erased  within the process of colonisation and the western documentation of Maori culture. This intervention attempts to respect takatāpui and allow them to gain more visibility.
Nathaniel explores self-care. The washing the body, which is explored in the work is a domestic and private act enacted for and upon one's own body, the cleaning and maintaining the exterior of the self in relation to one's inner self. Art making in itself can be thought of as a form of self-care, in that art provides space to gain strength from exposing and discussing vulnerabilities.
Nathaniel explores self-care by presenting himself washing his own body – a homely and private act carried out for one's self and upon one's own body. The ritual of cleaning the external body could be seen as simultaneously providing both mental and emotional care for one's self. Displaying the bareness of his marginalised body he gives the audience an opportunity to enter into a relationship of viewing that many are unfamiliar with. The creation and display of this series, just like a lot self-narrative based art making, is a form of self-care, in that it provides an opportunity to gain strength from exposing and discussing vulnerabilities.
The video installation titled Where I Stand, Where I Sit consists of 3 T.V. screens in the centre of the exhibition window space. The intervention remained simplistic in its idea to create space, which was done by adjusting the works slightly. At a closer look you can still see the drill holes and pencil drawings where previous works were.
Nathaniel moves performatively in domestic spaces; exploring a conversation surrounding place, belonging, body and identity. In the very public window space of Meanwhile, showing the private is made public. As the maker and the subject, Nathaniel gives himself a relative amount of control over the viewer's gaze upon his body – granting himself power within the viewing relationship of the gaze.
Written by Laura Duffy
Edited by Dilohana Lekamge
Snapchat story by Laura Duffy before, during and after intervention was installed, 5 October 2016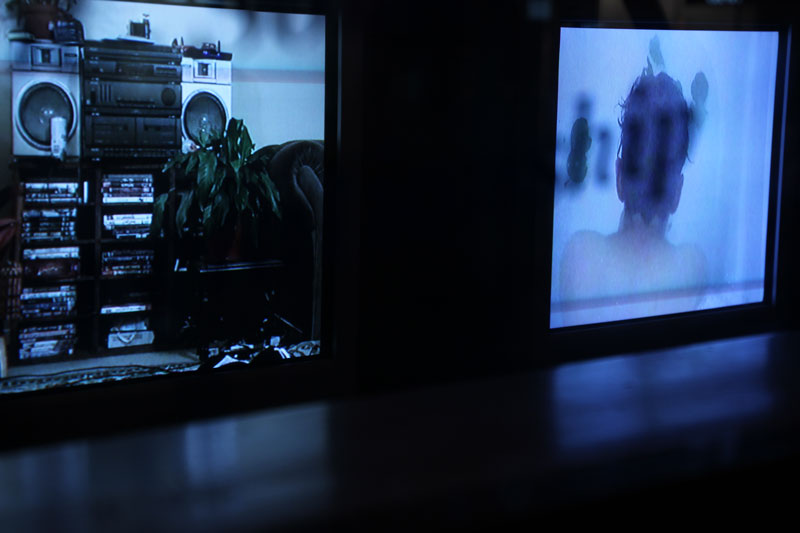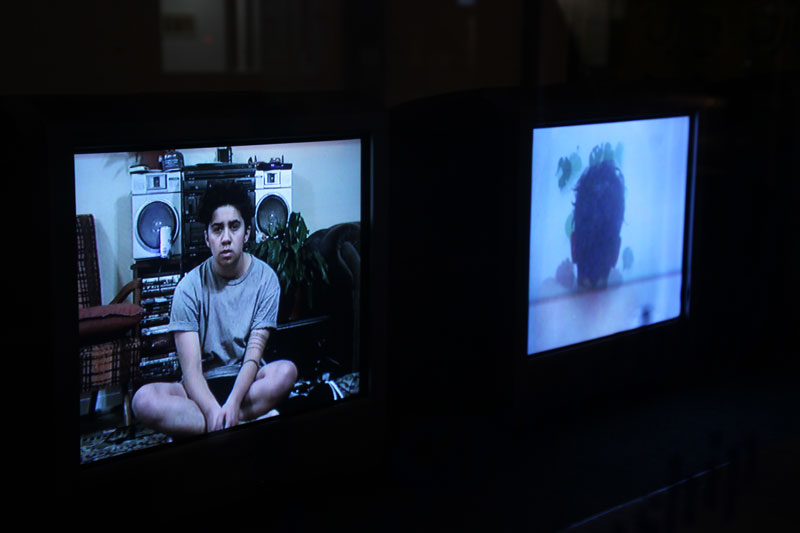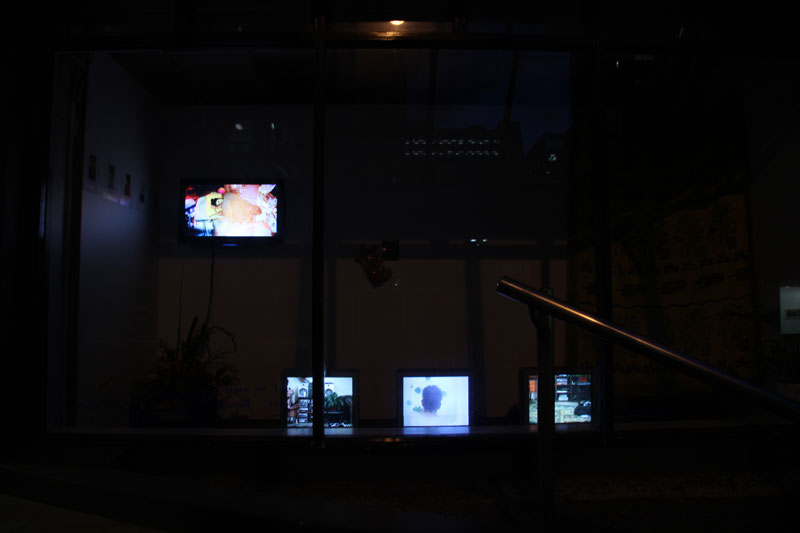 Photography by Morgan Fowler and Elise Lanigan